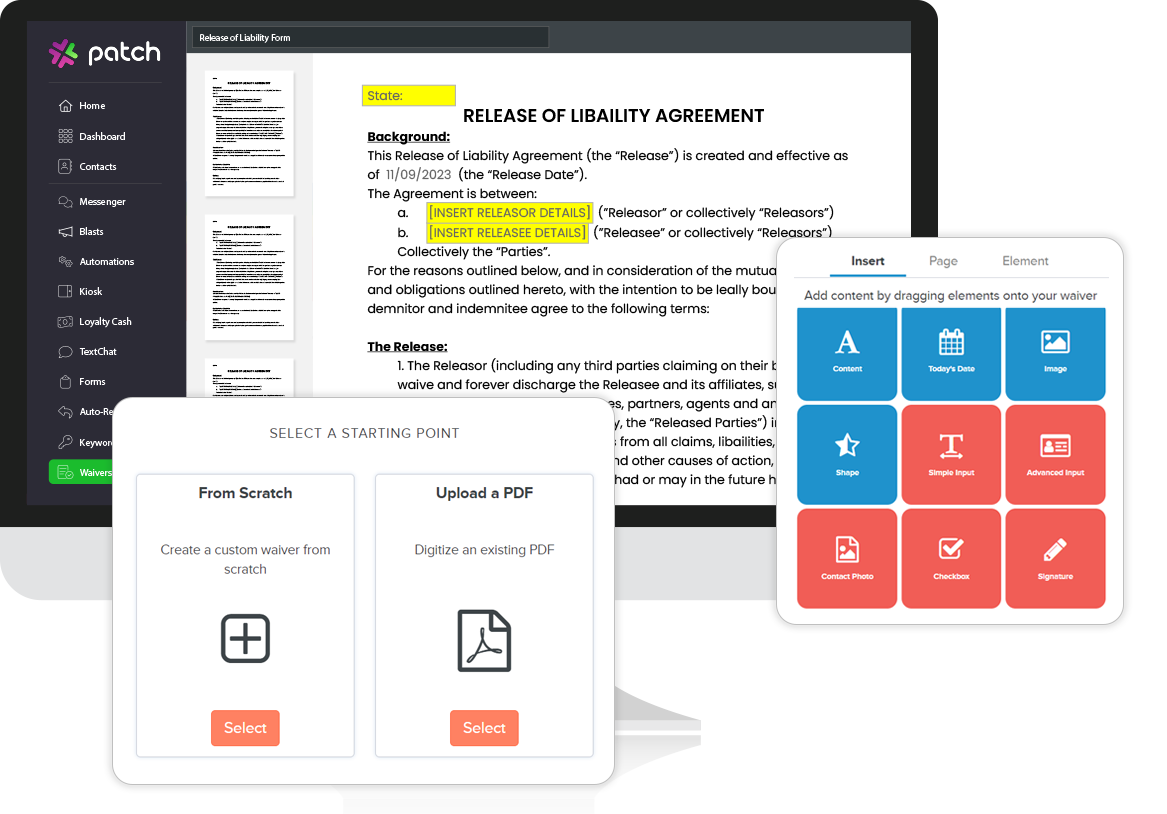 Get free unlimite

d

waivers for life, and
bring more customers back.
Switching from paper to digital waivers is about more than just waiver management. It's about putting your waivers to work for you. Patch's waiver system is designed to not only safeguard your business, but to amplify your marketing, bring more people back to your business, and increase revenue.
To get your free waivers for life, speak with one of our customer retention experts!
A simplified solution for creating and managing waivers.
Efficient
Our intuitive interface allows for quick digitalization of existing waivers or the creation of new ones within minutes, saving your valuable time and resources.
Customized
Tailor your waiver forms to your business needs with the option to add unlimited fields, ensuring you gather the necessary information from your customers.
Accessible
Customers can sign waivers directly on your website, through mobile devices, or in-person using our kiosk app, providing flexibility for engagement.
Secure
We ensure compliance with the E-Sign Act and maintain high-level encryption to safeguard all signed waivers, gaining trust from various sectors, including high-security organizations. Turn your waivers into a marketing channel.
Waivers can be used as more than just your legal documents—they can be a gateway to customer retention. Integrate your waivers with Patch Retention's marketing tools to re-engage customers through automated messages, rewards, and tailored interactions. Transform your regulatory needs into potent marketing efforts!

Every customer retention tool you need under one login.
Ready to get free waivers for life?