Loyalty Widget
A Deep Dive into the Best Customer Loyalty Program Software Solutions for 2023
Transform your business with the best customer loyalty program software in 2023, drive growth, boost retention rates and overall satisfaction.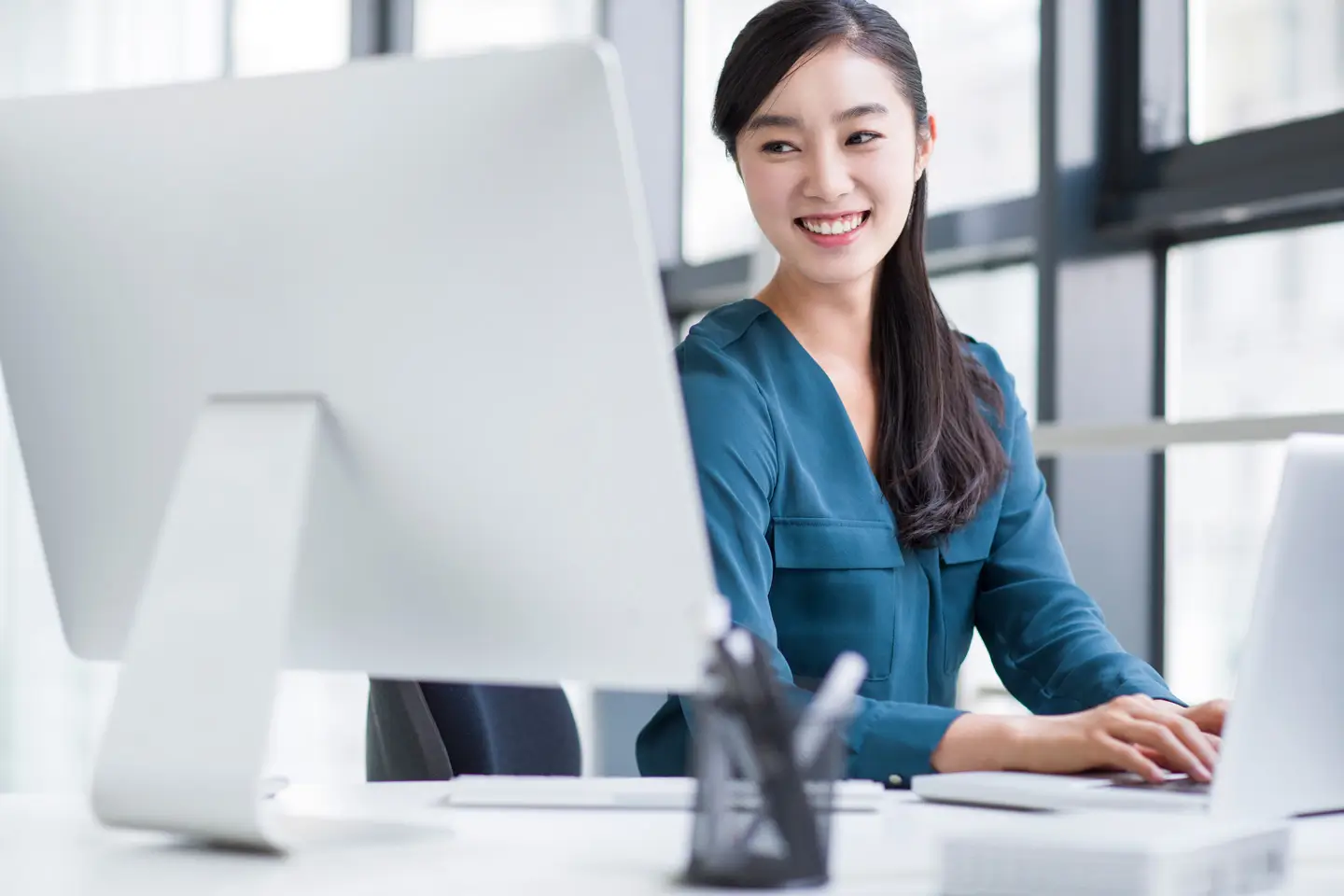 In a world where customer loyalty is key, businesses need to find ways to engage customers and keep them coming back for more.
One way to do this is by implementing a customer loyalty program. Using specialized software makes this process easy and efficient. But with so many options for referral programs out there, how do you make the right decision?
In this article, we ranked and reviewed the best customer loyalty program software to help you and your customer service team improve and increase customer lifetime value and generate more revenue.
How do customer loyalty programs work?
A customer loyalty program is intended to encourage customers to stay loyal and to incentivize behaviors that are beneficial to the business. Businesses may offer a custom loyalty program that rewards loyal customers for making a certain number of purchases or referring new customers.
Using customer loyalty software, businesses can track customer activity, assess the effectiveness of the program, and make adjustments as needed.
What are the benefits of using customer loyalty program software?
Using customer loyalty program software has plenty of benefits such as tracking loyal customers and gauging a customer's lifetime value.
As a result, it is easier to concentrate your marketing efforts on retaining your best customers rather than constantly acquiring new customers.
Customers who participate in loyalty and reward programs also feel connected to your business. A successful first-time buyer campaign turns them into lifelong brand enthusiasts.
At the same time, the data collected from these programs provide valuable insights into what your customers want and how to serve them better.
What are the key features of customer loyalty program software?
Customer loyalty program software typically includes features like:
Membership cards
Tracking customer points
Automatic redemption of rewards
Personalized offers
Birthday bonuses
Email notifications
To track your marketing program's performance and identify which marketing tactics are most effective, choose software that has a robust reporting system.
A simple-to-use program will allow you to spend more time composing creative ideas for your program and less time grappling with complicated technology.
What is the best customer loyalty program software in 2023?
Here are our top picks for the best customer loyalty program software to use this year:
| Platform | Price Range | Pros | Cons |
| --- | --- | --- | --- |
| Patch | Starts with a free plan and then increases based on the number of contacts. | Customize your loyalty and rewards programs based on customer behavior and on company needs. | Customer loyalty platform built specifically for eCommerce, so it might not be a good fit for brick-and-mortar businesses. |
| Loyal Zoo | Starts at $47 per month, then a 1% fee per transaction. | Great tool for small businesses making their first baby steps in customer retention management. | Integrations can sometimes slow down the program. |
| Clover | Must have the Clover POS system to use their own loyalty program and system. | Clover is a fantastic tool for companies using their POS solution. | Clover doesn't specialize in customer data and retention, so it's not as advanced as specialized customer loyalty program software. |
| Belly | Prices start at $129 per month and move up to an Enterprise level with custom pricing. | Belly makes it easy for any business to establish a customer-facing digital rewards program in minutes. | The platform could have more customizable options. |
| Loyalty Gator | Starts at 59 CAD and moves up to a custom plan to fit larger enterprises. | Very user-friendly. No transaction fees, ever. | Their lowest package contains features that many customers didn't find applicable. They could have a more basic plan at a lower price point. |
1. Patch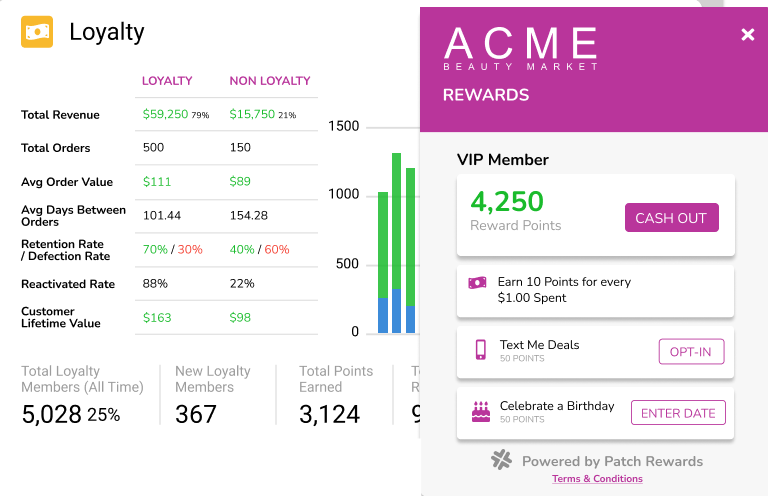 Patch's customer loyalty program software enables businesses to create personalized loyalty and rewards programs.
The platform provides eCommerce companies with the tools needed to drive engagement and customer satisfaction through more personalized loyalty program experiences, including customizable 'ways to earn' and a customizable rewards widget.
The Patch platform supports both physical and digital channels, where customers earn points or cash by shopping in-store or online.
While most programs simply reward loyal customers for spending money, Patch gives you the ability to reward people for taking actions that lead to repeat purchases, from joining an email list to following your online store or brand on Facebook or Instagram and referring friends.
Most loyalty programs simply reward existing customers that are already loyal, Patch drives customers to become loyal during every stage of the customer journey.
Patch's top features
Loyalty points/cash: Strengthen the ties between you and your customers by implementing internal loyalty points that they're able to spend only with your company.

Loyalty website widget: Integrate a widget directly into your website for customers to join your loyalty program easily.

Customizable 'ways to earn': You're in the driver's seat when it comes to the ways your customers earn their loyalty points. Adjust the system based on your current business goals in just a few clicks.

Increase customer engagement: Cut through the noise with innovative digital loyalty methods and techniques. Cookie-cutter tricks no longer cut it (pun intended). With Patch, the sky's the limit.

RFM Analytics: Since not all customers are created equal, Patch helps you identify your top customers so that you can put an added effort to reinforce their loyalty through initiatives such as giving extra points on repeat purchases or notifying a customer success manager when a top shopper hits a big milestone.

While every customer should be considered for loyalty, some should have VIP service because they're the lifeblood of your business.

Customizable widget: Tailor their solution to your website and industry to build a successful customer loyalty program.
Our pricing is pretty straightforward. When you sign up to Patch Pro, you get access to all of our tools plus unlimited email sends up to 29,500 contacts only for $295/month.
Add additional contacts for 1₵ per contact per month (you also have the option to add SMS on top of that for 1₵ per message).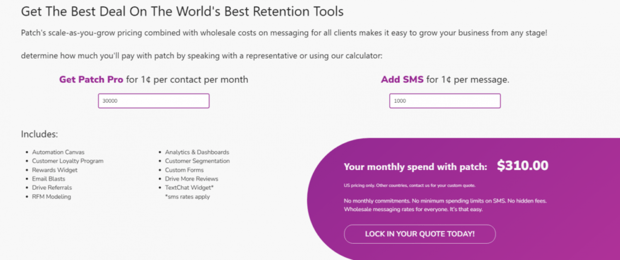 2. LoyalZoo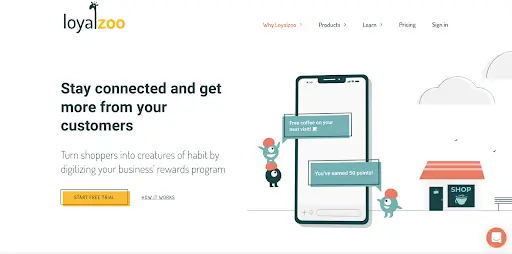 With LoyalZoo's loyalty program software, you can easily create and manage your own rewards program. The company specializes in a customer engagement platform providing mobile solutions for small businesses to help the little guy get ahead.
LoyalZoo provides simple tutorials and a seamless onboarding process to get you up and running. While the platform offers an impressive set of features, some users report occasional downtime when integrated with the Clover app and that their online dashboard is frequently slow to update.
Top features
Sign up customers with their email address or phone number: Easily capture contact information without coming across as annoying or salesy.

Custom digital loyalty cards: Stand out from the crowd with custom branding.
Multi-location support: Level the playing field with the big brands by enabling your customers to accumulate and spend loyalty points across all of your locations.
Pricing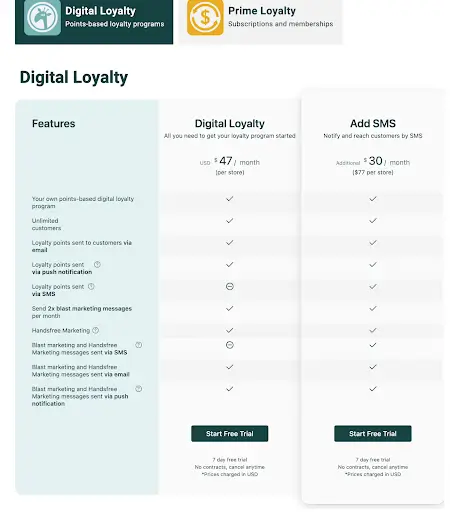 LoyalZoo offers two core pricing packages to accommodate the needs of both small and large businesses.
Digital Loyalty ($47/month per store): The pricing plan unlocks LoyalZoo's point-based loyalty programs along with features such as blast marketing and automatic promotions. Unlock SMS for an additional $30/month per store.

Prime Loyalty (1% transaction fee): This pricing package is tailored to subscriptions and memberships to help you get the most out of these tools, including automatic declined cards and VIP benefit management.
3. Clover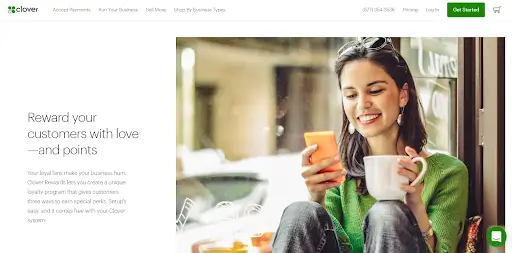 Clover's customer loyalty program software helps businesses increase sales and strengthen customer relationships. The company has become the largest cloud-based POS system in the United States. Clover's unique selling point is its massive ecosystem.
Clover makes it easy for any business to launch, manage, and track rewards from their point-of-sale system. Some users report slow performance of the Clover tablets over time to the point where they have to frequently reboot them to rev up the speed.
Top features
A well-polished mobile app: Clover offers a portable way for your customers to earn and spend their rewards.

Seamless integration with your POS system: Set up Clover's loyalty program in just a few minutes thanks to their seamless onboarding process.

Flexible perk management: Create different rewards and perks to target multiple segments of your customer base.

Free for Clover users: Unlock all the tools and features without paying anything extra for them.
Pricing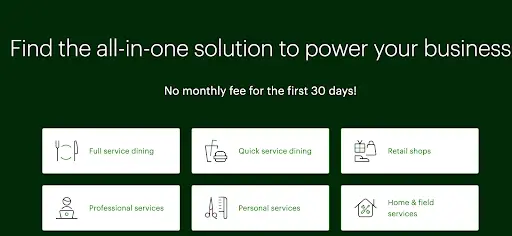 You need to buy Clover's POS system to access the loyalty program. The costs depend greatly on the type of industry you're in and the size of your business.
4. Belly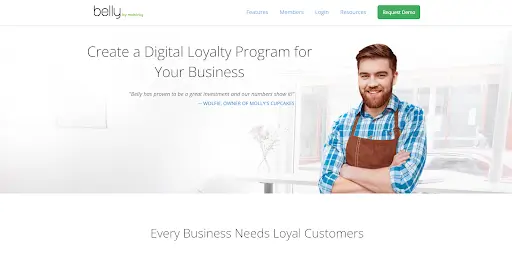 Belly empowers businesses to create unique rewards, track customer activity, and create buzz through word of mouth. Belly is set out to disrupt the customer loyalty management industry by leveraging the power of gamification to achieve high customer engagement rates.
Businesses can generate more buzz around their brands by integrating Twitter, Facebook, and Yelp with Belly. On the other hand, customers report frequent connectivity issues and limited reach.
Top features
Gamification: Belly adopted the latest advancements in gamification practices to ensure consistently high engagement rates.

Social media integrations: The platform makes it easy for customers to share their experiences with your brand in just a few clicks (or taps.)

Customization: Create custom rewards based on how your customers interact with your loyalty program.
Pricing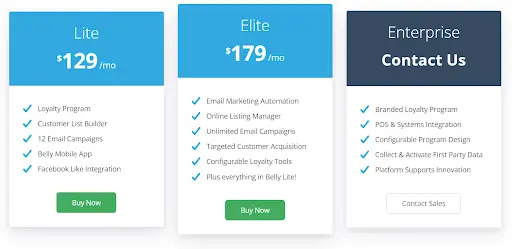 Belly offers a free personalized walk-through to get you started and show you how everything works. Prices start at $129 per month and move up to the Enterprise level with custom pricing.
5. Loyalty Gator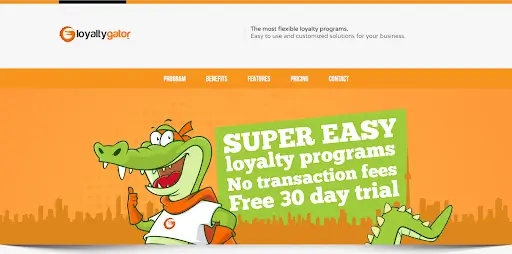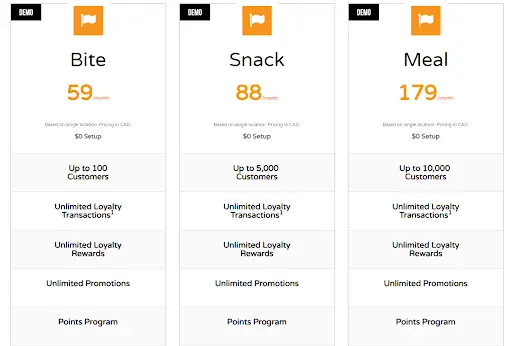 Loyalty Gator offers three main packages based on the number of customers you have. While each plan is designed to handle growing business demands, they do offer customizable plans if certain features do not fit your needs.
Find the best customer loyalty program software for your business
As you can see, there are a lot of different options out there, and not all of them are created equal. Make sure to ask the right questions to find the best customer loyalty program software that is best suited to your needs.
And if you need help getting started, don't hesitate to reach out to us. We will be happy to share our expertise and help you find the perfect solution for your business.