Understand your customer behavior and retention efforts with
built in insights.
Patch analyzes customer data and purchase history, and segments people into actionable groups, such as your most loyal customers and those you are at-risk of losing. Tailor your automated customer journeys and retention efforts to reach the right people at the right time.
Take advantage of recency, frequency, monetary (RFM) analytics.
Drive customer engagement and revenue by segmenting customers according to their relevance to your business. RFM modeling rates the strength of each customer according to their behaviors and gives you the likelihood that they'll come back or if you are at risk of losing them.
Patch makes it even easier to produce targeted, direct marketing campaigns tailored to specific customer buckets.
This customer segmentation is a must-have for increasing customer retention.
Customer data is collected to create individual RFM scores
RFM scores are displayed instantly
Customers are automatically segmented into buckets such as New, At-Risk, Lost, Loyal, and more based on their RFM scores learn more
Use automations to target each bucket, for example:
Send a welcome text to all NEW customers
Send an incentive to any customer who moves to AT-RISK
Offer free loyalty cash to any customer who becomes LOST
Send a thank you card to any customer who becomes a CHAMPION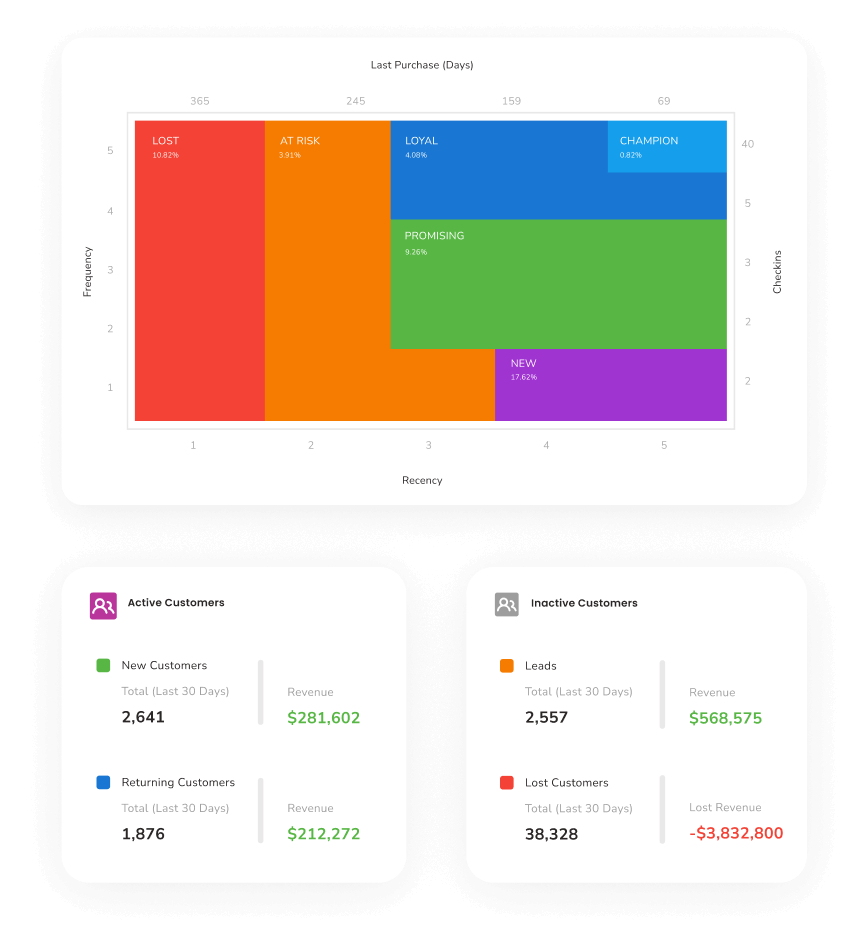 Actional insights for more connected customers.
Connect with your customers by analyzing their demographics and behaviors. Patch lets you nurture and re-engage customers, drive more revenue, and increase customer lifetime value.
Demographics
Collected from your customers
Location
Age Range
Gender
Occupation
Behavioral Data
Collected through purchasing activity
Recent purchases
Items purchased
Frequency of purchasing
Amount spent on products
Spend your marketing budget where it counts.
Reduce your customer churn rates with product recommendations, communications, loyalty programs, and more. Collecting and analyzing customer data not only helps improve your marketing campaigns, but also elevates your overall customer experience.
Qualitative Data
Collected through reviews, emails, and social media posts
Preferences
Brand interest (you and competitors)
Reasons behind purchasing
Feelings about purchases
A few of our integrated partners...

Don't take our word for it.
Learn how customer retention promotes business growth.